Copeland and Carryonharry have both been retired from racing and have returned home to their owners.

Copeland has been retired after an excellent career at the highest level, spanning 8 years in which he won 11 races and was placed numerous times from 63 runs. He has campaigned in the top staying races on the flat as well as the best 2-2½ mile hurdle races.

His most notable wins were in the Tote Gold Trophy at Newbury in 2002 in which he beat Rooster Booster and the 2004 Scottish Champion Hurdle. He has also won several top handicap hurdles as well as being placed in the Tote Gold Trophy, Champion Novice Hurdle, Scottish Champion Hurdle, Lanzarote Hurdle, Axminster Hurdle, Welsh Champion Hurdle, the County Hurdle and many more, including finishing second to Best Mate in his novice hurdle career. Tony McCoy, David Casey, Barry Fenton and Jamie Moore were the jockeys privileged to win on him.

He has amassed over £370,000 in prize money and ran creditably throughout last season in some high class races at the age of 10. His owners, Professor and Mrs Silk have decided to retire him while still in good form and at the top. There are not many opportunities for him and rather than see him come down the handicap it was decided to retire him sound and in good health and to finish his career on a high. He will be looked after at home and used to educate the young horses. He is a wonderful horse to deal with, a real character who has a wonderful temperament. Copeland will be missed at Pond House where he has given so much pleasure over the years but we wish him a long and happy retirement.
Below are listed some of his career highlights:
1999 WON William Hill Handicap Hurdle Sandown D J Casey
2000 2nd Tote gold Trophy (Hcap Hdle) Newbury G Tormey
2000 2nd Martell Mersey Novices Hurdle Aintree A P McCoy
2002 WON Handicap Hurdle Cheltenham A P McCoy
2002 WON Tote Gold Trophy (Hcap Hdle) Newbury A P McCoy
2002 2nd Axminster Hurdle Wincanton A P McCoy
2002 2nd Welsh Champion Hurdle Chepstow A P McCoy
2002 WON Masai Hurdle Sandown A P McCoy
2004 3rd County Hurdle Cheltenham J E Moore
2004 WON Scottish Champion Hurdle Ayr J E Moore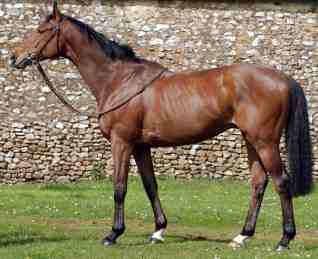 Copeland
Picture By Bill Selwyn
Carryonharry gave Gerry Supple his biggest career win at Kempton in December 2002 after a superb display of jumping. He also went on to provide Andrew Glassonbury with his first winner under National Hunt rules and will always be remembered as a very special horse by these two jockeys. He went on to win nine races in his time at Pond House from 1999 to 2005 and is another that will be missed by all.

Everybody loved Harry at Pond House mainly because of his cheeky character - all of the boys knew that they had to sit tight when he came back into training, as he would do his best to dislodge them! The girls in the office enjoyed the stories from Mrs Silk when he was on his summer holidays and kept jumping out of his paddock into the rose garden!

Harry is enjoying his retirement at home with Mrs Silk and her daughter Emma, who takes Harry hunting with the Kent and Surrey Bloodhounds. He still has his spectacular jump and is showing the younger horses how it is done.