Wednesday, 30 March 2011 07:34
Written by Emma McWilliam
David & Tom Scudamore talk exclusively about their Aintree hopes
- See David's Update for details 
It's the start of the flat season on turf this afternoon and they are really kicking off with a fizzle rather than a bang at Catterick!  Having said that it does look to be a tricky card.  To me the flat season really starts with Doncaster and the Brocklesby.  I have already had one of my contacts tell me about a flying two year old that is entered at Donny - I love the early part of the flat season as they always seem to be able to sort out which are the best of the youngsters.
The two trainers that it has always paid to side with during the early part of the season are Barry Hills and John Gosden.  Both trainers have their string well forward and have been among the winners recently - keep an eye on all of their runners (especially the ones that there is significant support for).
It is appropriate that the start of the flat season should coincide with training legend Mick Easterby's 80th birthday.  Mick has no intention of retiring yet - can you imagine being his son, waiting to take over the reins...you could be the oldest new trainer ever!
I can still see Mick at the sales with his braces on as well as a belt to keep his trousers up and he would always find MCP and myself and tell us some amazing stories!  There is definitely a book in Mick Easterby - it is probably working that keeps him so sharp.
*****
It is lucky that there were 20,000 Ghana fans turn up at Wembley last night to watch the pointless International Friendly.  They had some very bright colours on and livened up an otherwise dreary night.  They were rewarded for their enthusiasm when the visitors equalised in injury time and the match ended 1-1.  Let's hope that none of the players have picked up any knocks.
*****
I have a couple more photographs from the gallops yesterday.  As you can see it was a dreary old day, but at least it wasn't as wet as some people had been forecasting!  Below you will see Notus de la Tour, and Sure Josie Sure working with Street Entertainer.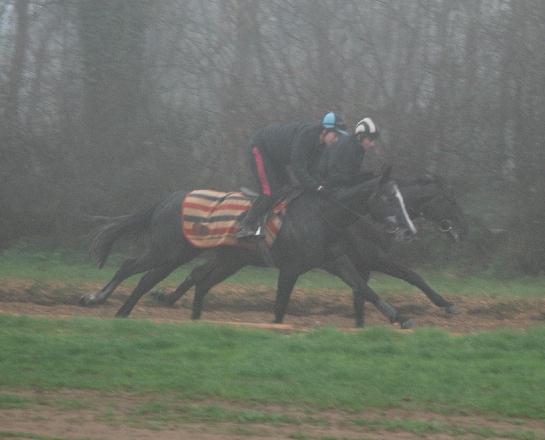 Above left: Notus de la Tour and right: Sure Josie Sure (nearside) and Street Entertainer on the Pond House gallops