Thursday, 03 February 2011 09:03
Written by James C Smith
I see that not only will Henry Cecil be making his first visit to Cheltenham to attend the Festival in March, he will be saddling a runner as well!  Henry will have Plato (owned by the Niarchos family) in the St Patrick's Day Derby - a fun race designed to raise money for Cancer Research UK.  Plato will be ridden by Racing UK presenter Lorna Fowler (nee Bradburne), who has had over 100 rides on the flat and over jumps and I am told that she has been riding the four year old out on the Newmarket gallops.  It is a great idea to raise money for this most worthy cause as the riders must raise £5,000 each in order to participate - I am looking forward to seeing the it!
*****
It's legendary trainer Michael Dickinson's 61st birthday today.  I still remember hearing a story about a time when some of Michael's owners told him they were coming to see their horse gallop on a Thursday.  Michael's reply was "the horse gallops on Wednesday" - that was the end of the conversation!  Michael was always very different in views to the established trainers of his time, although I'm not sure you would be able to get away with that nowadays.  Anyway, an amazing trainer - many happy returns Michael.
It is also Roy "Chubby" Brown's birthday today.  Roy is an owner with Kevin Ryan (and a comedian for the strictly over 18's who you would certainly not take your grandmother to see!).
*****
I have a couple more pictures to share with you from the gallops, this time of a few that have yet to make their debuts for the Pond House team - they are of Effervesce, Swing Bowler (a daughter of that fantastic race mare Lady Cricket) and recent ex-French recruit Trop Fort.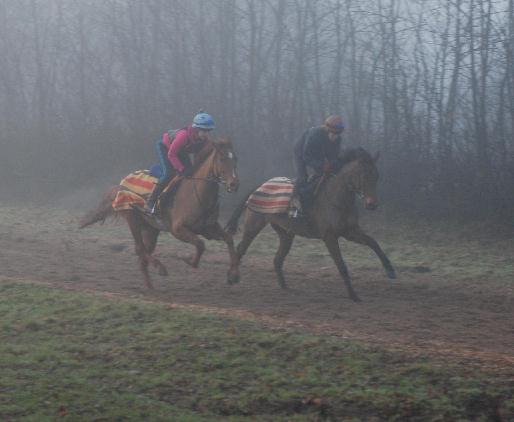 Above left (l-r): Effervesce and Swing Bowler and right: Trop Fort under Tom Scudamore