Saturday, 29 January 2011 08:40
Written by James C Smith
As soon as racing had drawn to a close at Doncaster yesterday the course staff started to cover the track.  Hopefully the six hours they spent applying fleeces to the ground will reap dividends by allowing this afternoon's meeting to go ahead.  If you were watching any of the racing from their meeting yesterday, I am sure you will have noticed that the 4.10pm race was a bit of a farce - the sun was low in the sky and so all of the hurdles were removed in the home straight and only four flights were jumped in total!
For once I found myself agreeing with motor mouth Matt Chapman who said that if you backed the favourite (a Point-to-Point winner) your chances were reduced with the loss of all those hurdles to jump - it turned out to be more like a flat race.  The sun has always been there, so what happened when there was a low-lying sun before?  I don't remember course officials taking out all the jumps years ago - why is it that everything seemed so much better back then?!  I still remember years ago when a jockey, (I won't tell you his name but he had the initials RA on his skullcap!) used the excuse that he was put-off by the sun reflecting in the water jump!
*****
At last a bookmaker with some taste!  There is a great 1/2 page picture of our Cleeve Hurdle runner Grands Crus on page 13 of today's Racing Post advertising Stan James bookmakers.  Hopefully it is a good omen for our improving six year old grey this afternoon.
*****
I cannot believe that a study in Australia by two vets from the University of Sydney has come up with the conclusion that the whip makes no difference to the result of a horse race.  Yesterday at Fontwell a rider lost his stick at the last hurdle and he finished second - there is no doubt in my mind that if the jockey had his whip, he would have won.  It is worth remembering that the stick is not just for cajoling a horse along either, you often need it to straighten out a hanging horse.  I wonder how many winners those vets have ridden?  Personally I respect the opinion of former champion jockey John Francome more.  John said, "of course the whip makes a difference to some horses, only an idiot would tell you it didn't but the vast majority do their best".
*****
I have another couple of pictures from the gallops, this time of dual hurdle winner Arrayan and Sir Frank as well as recent recruit Jumpjack Flint (who is engaged at Hereford tomorrow) and Taunton scorer Sultan Fontenaille.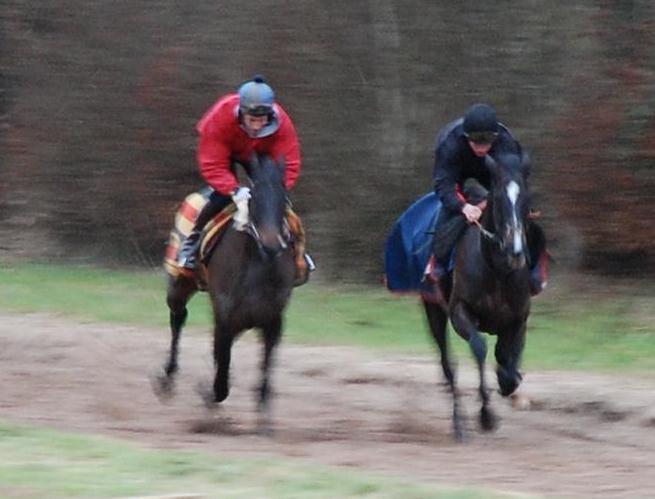 Above left: (l-r) Arrayan & Sir Frank, and right: Jumpjack Flint & Sultan Fontenaille on the Pond House gallops