Monday, 01 June 2020 11:06
Written by David Pipe
           Teaser - Our First Runner
I am delighted to be writing today with racing being back for the first time at Newcastle this afternoon.  There has been some great work behind the scenes to make this happen and we have the privilege of being the first sport back in action.  I saw Martin Cruddace, an owner at Pond House and ARC chief, and Hayley Turner on Good Morning Britain this morning and they were doing a brilliant job of explaining how racing is going to work behind closed doors.  I think it is great opportunity to try and attract a wider audience to our sport being the first one back on the TV and hope as an industry we make the most of this window.  As long as things run smoothly and everyone sticks to the new protocols then I should see no reason why this should not happen and there is some cracking racing to look forward to at the weekend.
FIRST RUNNER BACK
My first runner back is Teaser at Kempton on Tuesday.  He will be having his first run for the yard on the level after we bought him after he won a seller at Leicester in October 2018.  He has won two hurdle races and two chases since and it will be interesting to see how he gets on off a mark of 72.  Finley Marsh rides claiming a handy three pounds.  I was due to also run I'lletyougonow but she was balloted out.  She now has an entry a Haydock at the weekend and is likely to run there all being well.
COMING UP
Looking a little further ahead to the flat action coming up we have horses Airton, Malangen, Yaa Salaam, Miss M, Dell'arca, Percy Street, Leoncavallo, Jacbequick and Nabvutika waiting in the wings and ready to race.  Jumpers Midnight Magic, Jasmin Des Bordes, Le Grand Rocher and Stubborn Logic are all ready for action when jumping returns while we have also just brought in a few from the field to get them to run over the summer as well.  Collingwood Court, Mrs Miggins, Golden Jeffrey, Paricolor, Huccaby, and Story of Friends are a few that are now cantering away after coming in from their break with more horses due in this week as well.
FURTHER DETAILS
Over the weekend the BHA released more details of the actual races that are scheduled for the rest of June.  We had previously had the fixture list with the dates and racecourses but they put the meat to the bone so to speak and we now know the individual races at each meeting.  Trainers can start to plan more thoroughly for their horses.  While this is good for us we are obviously small scale on the flat compared to the large flat yards and I know they will be delighted to get back racing after which has been a tough time not just for racing but for the country as a whole.
Last week I finished my look back at all my winners from last season so now it is important to mention the jockeys.
JOCKEYS
Tom Scudamore – rode the majority of my runners and consequently the majority of our Pond House winners.  Tom's experience is invaluable and we are lucky to be able to have first call on his expertise.  He rode 35 winners from 182 rides for us.  Tom has been riding out for flat trainer Richard Hannon since racing was stopped while still coming in and riding out for me one day a week.  He has really enjoyed the experience of riding the youngsters and has learned a lot of how things are done differently with the sprinters up there.  He is fit and raring to go when the jumping returns.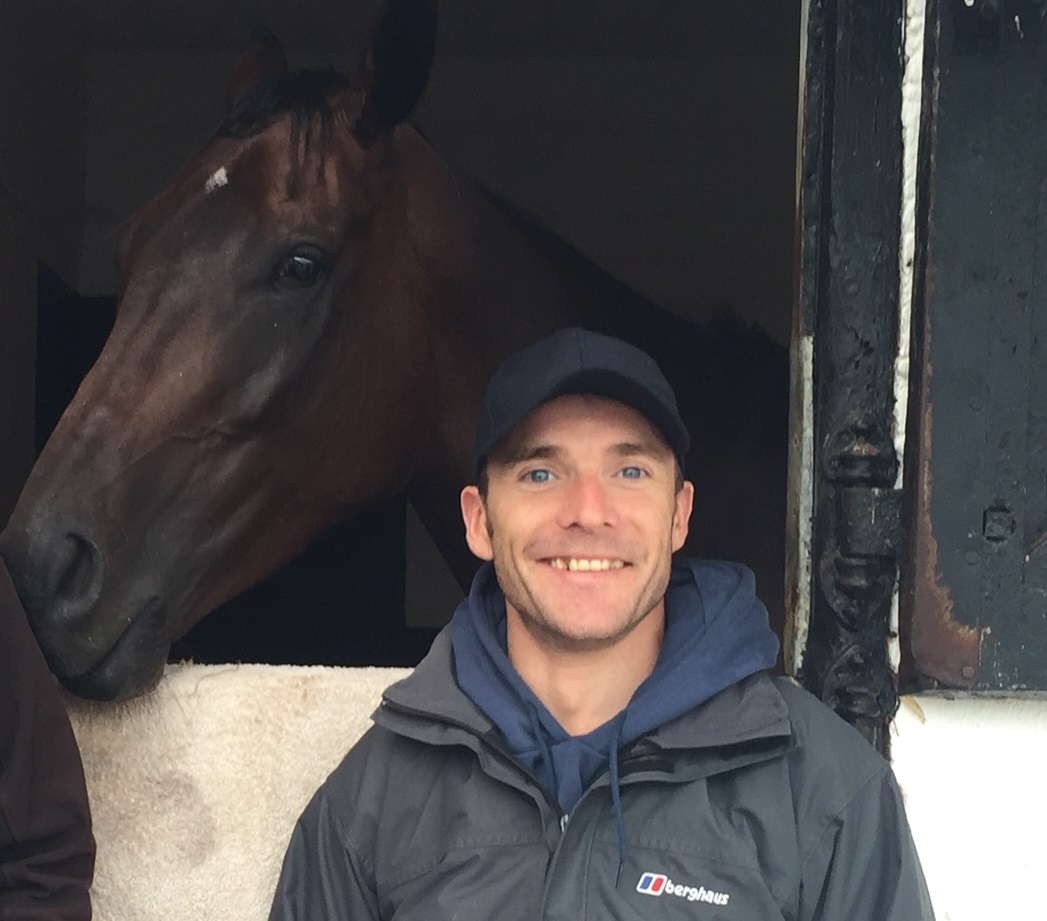 David Noonan – although now riding as a freelance he still comes and rides out here two times a week.  He started his career here when coming over from Ireland and he is a great asset to our team at home and on the racecourse.  He rode 12 winners for us last season from 83 rides and was on board our biggest winner of the year – Warthog.  They won the Caspian Caviar Gold Cup at Cheltenham in December and this was David's biggest career success to date.  He works very hard and rides out for lots of different trainers to get rides.   Like Tom Scu, he has been riding out at Richard Hannon's in recent weeks and has really enjoyed the new experience.  We are delighted to be able to call on his services for the upcoming season as well.

            David Noonan & Warthog
Fergus Gillard – Fergus has just turned 18 and been with us two seasons now.  Last year was a brilliant one for him.  He had ridden many pony racing winners but last season he showed us all what he could do in the saddle under rules.  He gained lots of experience in the point to point field and rode 9 winners from 31 rides for me at a 31% strike rate over hurdles and fences.  He rode four winners for his father as well and he is terrific valuable for his seven pound claim.  He rides with maturity beyond his years and looks to have a bright career ahead of him.  He is set to turn conditional this summer and we look forward to utilising his talents this season.  He built up a great rapport with Main Fact especially and in fact rode four of our last five winners of the season.  He is a name to watch out for this autumn.

          Main Fact & Fergus Gillard
With Fergus turning conditional that does actually leave us without an amateur jockey at present.  With the addition of some lovely young horses this summer we are like to have more horses in training this winter than last which is brilliant.  While we will have exactly the same members of staff on the team for the upcoming season we are looking to recruit one or two new members, including an amateur jockey.  Exciting times to look forward to.
Away from the horses I have been enjoying the recent nice sunny hot weather like the rest of us.  The kids of been on half term break but it is back to the books with teacher Leanne at home this morning.  They do not fall into the category of those that can return to school as yet but they are being set lots of work and Leanne is doing a great job in teaching them.  I think I have only left the property once since lockdown started.  I appreciate I have been very lucky to have been able to keep busy and live in my own little bubble so to speak.  The staff here working have been brilliant and we have got a lot jobs done as well as of course looking after and exercising the horses.  Over the coming weeks I hope to start getting a few more staff back to work as a sense of normality begins to return.  Fingers crossed we can all keep safe and well and the improvement can continue.