Monday, 27 April 2020 08:49
Written by David Pipe

                 Brinkley at Sunset
Another week has passed and thankfully we sort of remain in our own little bubble at Pond House.  Life continues relatively normally, while things outside are of course nowhere near normal.  Thankfully all the staff and horses remain healthy and everyone I speak to fortunately seems relatively untouched by something that has brought so much disruption and heartache to many. 
HORSES IN TRAINING
We still have about 15 horses in full training that will have a run or two on the flat before going jumping later in the summer.  There was of course positive news from France and Germany about racing returning in those countries next month.  France will resume racing behind closed doors on the flat from Monday 11th June.  The BHA and NTF are keeping trainers well informed about plans as to how racing might resume once government guidance gives the go ahead for racing to return.  Although I am only a very small fish in the flat racing world I think it is good they have plans to cater for a range of different scenarios and seem fairly confident racing will return in some format behind closed doors in May.  While frustrating, it does help keep things positive and I am sure it is welcome news for all the flat trainers to have something to aim for.
Talking of aims; with jump racing hopefully returning in July some of our 'summer horses' have had a nice early break out at grass.  I will be looking to get about 10 of these back in from the field at the beginning of May to get them ready for action in July or August.  Combined with the 15 'dual' purpose horses we have on the go already I will have a nice little team of about 25 that will be campaigned over the summer and is something to look forward to.
HORSE FOR SALE
I have also just bought a nice four year old horse off the flat in Ireland to run over here later this summer.  The plan is to geld him and then send him over hurdles but he will be a great dual purpose prospect.  He is a winner over 1m2f and rated 83 and I have secured him for a very sensible price.  He is called Elite Trooper Grey and I have a half share available in him.  Should anyone be interested in getting involved please do get in touch This email address is being protected from spambots. You need JavaScript enabled to view it. or ring 01884 840715 for more details.
#DOITFORDAN
Away from the horses I was kindly nominated by Gordon Elliott via social media for two challenges to support the #doitfordan cause.  I had a social distancing furlong race up the grass by the gallops against Tom Malone and Gerry Supple.  Unfortunately I was last of three finishers but as I tell my kids it's not all about winning and it is the taking part that counts!!  I was badly in need of the run! You can watch our race by clicking on my Twitter feed here…https://twitter.com/DavidPipeRacing/status/1253689360039530500. You will also be able to see the second of the challenges, the Raw Egg Challenge.  https://twitter.com/DavidPipeRacing/status/1253693072812191747.  
https://twitter.com/DavidPipeRacing/status/1253693153732898822. While I did not enjoy this one either I did handle it better than Tom Malone!  My son Jack did give me a little helping hand – mine and Gerry's eggs were significantly smaller than Tom's!
Now to return to a topic I was talking about last week.  Horses that did very well for us last season.  I briefly mentioned the treble winners – Teaser, Buster Edwards, Kepagge and Ramses De Teillee but I thought I should talk about them in a little more detail.
TEASER
Teaser was a cheap purchase from a Leicester flat seller in October 2018 where he won and I managed to buy him for £7500 in the auction afterwards.  He is owned by a lovely group of people called the Willpower partnership and he was their first step into ownership and what fun they have had.  He excelled last summer as he won a hurdle race at Ludlow in May and then we sent him novice chasing as a four year old to take advantage of the big weight allowance they get during that time of year.  He is not very big but we did a lot of schooling at home and he really enjoys his jumping.  He made his chasing debut at Ffos Las in July last year and he was a convincing winner of a small field contest.  He made a couple of novice mistakes but jumped well in the main.  He then followed up in a chase at Newton Abbot next time out before in a bizarre race at Newton Abbot again the time after he was just beaten in a photo finish.  The handicapper has him on a rating of 127 which does make life tough but he ran a cracker stepped up in grade at Market Rasen and although he pulled up at Kempton on in last run, he had excuses that day and I am looking forward to getting him back after a wind operation and a break.  He is likely to have a run or two on the flat before mixing hurdles and chases later in the summer.  He has won four races since we bought him and there will be plenty more fun to be had with him and his enthusiastic owners as he is still only a five year old.

      Teaser & the Willpower Partnership
BUSTER EDWARDS
Buster Edwards was acquired from Cheltenham sales in June 2017 for £17,000.  He was beaten a head second in a bumper at Worcester in September that year but unfortunately he picked up an injury that kept him off the track for 18 months.  He made his comeback in March 2019.  He improved with each run on his first three starts back and gained his first win over hurdles at Fontwell in May last year.  A couple of placings and a couple of disappointments followed but the application of blinkers at Hereford in December saw him return to winning ways.  He followed up this win with an extraordinary victory at Haydock with Jack Tudor in the saddle.  He was looking like being tailed off down the far side and he traded at 999-1 in running that day.  The jockey never gave up however and neither did the horse as they finished with a wet sail to snatch victory on the line!  He finished placed twice more after this and he is currently out enjoying some grass.  Still only a seven year old, there still could be a bit more improvement to come.  Owned by Jonathan Williams, Buster was another first time ownership venture.  Although it was a difficult start as an owner for Jon when he picked up an injury early on I am delighted his patience has been rewarded now.  He is a terrific little horse, full of character and once again shows you do not always have to spend a fortune to buy a treble winner!

                Buster Edwards  
RAMSES DE TEILLEE
Ramses De Teillee is the most well-known of our treble winner and has the highest profile.  After a fantastic season in the 2018/19 campaign over fences which included a runner up position in the Welsh National, Grand National trial and a good effort in the Grand National itself.  After discussing options with owners John White and Anne Underhill it was decided to send him back over hurdles as he was in fact still a novice.  Ramses is not over big but is very athletic.  Some chasers are never quite as good over hurdles but Ramses is so nimble, neat and quick over his obstacles he enjoyed going back over the hurdles.  His first win came at Cheltenham in October and he then returned to fences back at the track the following month but disappointed and wind surgery followed.  He returned to hurdles in January this year and scored victories in two graded events at Doncaster and Haydock.  He was not seen at is best in the Albert Bartlett at the Cheltenham Festival in March but the ground had dried out a bit too much and he was out speeded by some speedier types at the business end of the race.  He is another on his holidays and we look forward to mixing hurdling and chasing this season with the Grand National being his main aim next April. He is still only an eight year old so hopefully in his prime and rated 149 over hurdles and fences he will be contesting some of the top staying races and the wetter the better for him!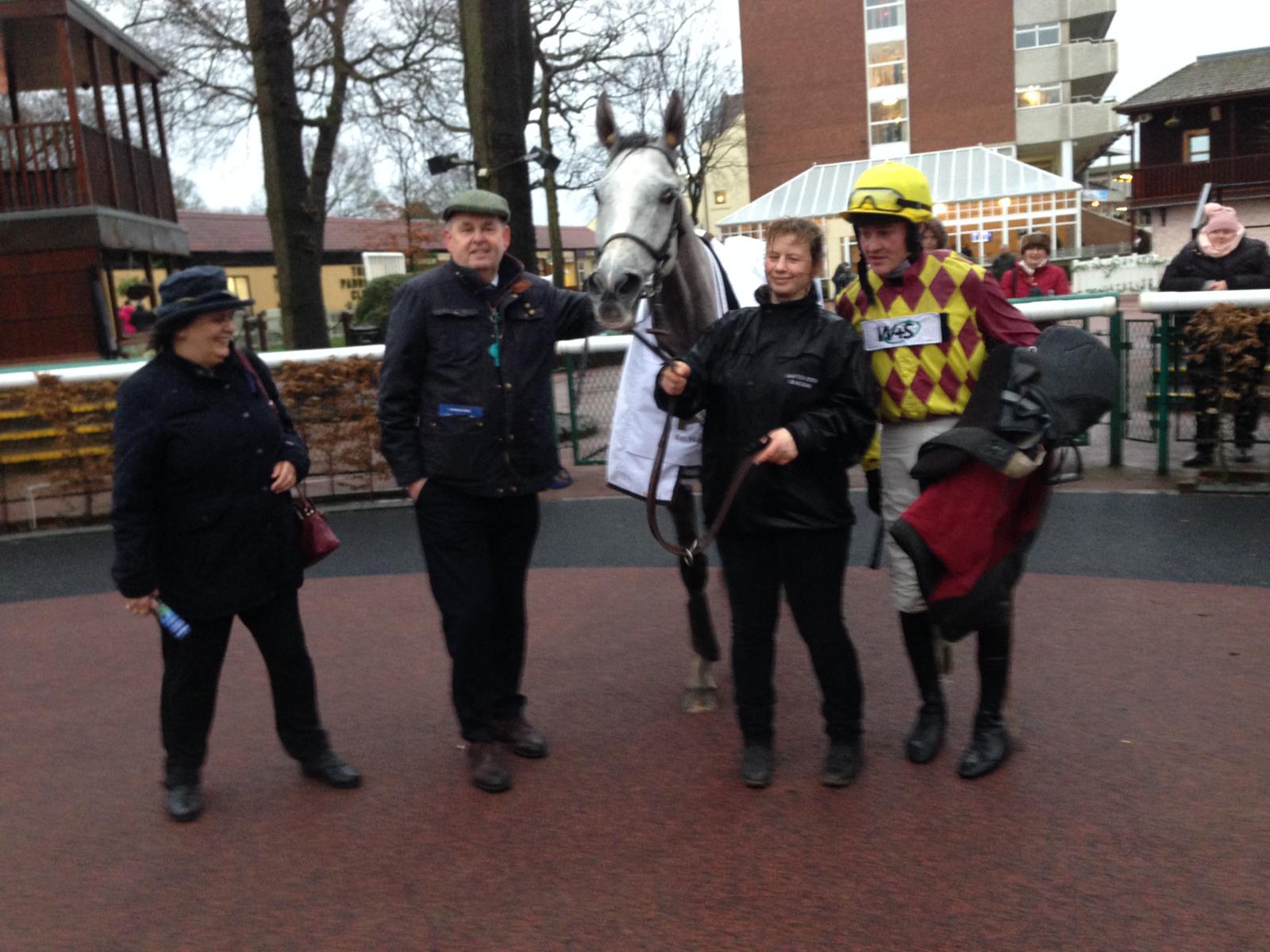 Ramses De Teillee
KEPAGGE
Kepagge is an exciting young horse that was three from three this season.  I have always liked him but he surprised me a little with the manner of his bumper win at Chepstow.  Mainly because I didn't really consider him a 'bumper' horse but he seems a relentless galloper and was brilliant to watch on this day as he came well clear of his rivals.  His hurdling debut at Leicester was not such an easy watch!  We were a very short priced favourite in a small runner field but at no point did you feel very confident.  He schooled brilliantly at home but after slipping into the first hurdle he seemed to frighten himself thereafter.   With nothing really wanting to lead in the race he found himself having too much daylight and Tom Scu did well to keep their partnership intact throughout the race.  He won easily in the end but the result does not tell the full story!  I had driven owner Sarah Ling to the races that day and it could have been a very long journey home had horse and jockey parted company at the first flight!  Thankfully he showed his true colours on is next run in better company at Doncaster.  Although again it was only a small runner field there was a couple of decent rivals and he was again an impressive winner.  Rated 135 over hurdles I think this is fair mark and there is plenty more to come from this lovely Getaway gelding.  While we are likely to see how he gets on in a handicap hurdle first, I can't wait to see this six year old over fences and he is one I am very excited by.

                      Kepagge
NEXT WEEK
We also had several horses who won two races last season; Story of Friends, Max Do Brazil, Mr Clarkson, Malangen, Hot Ryan, Induno, Paricolor, Champers on Ice, Miss Tynte and Israel Champ to name a few so next week we will have a look at some of these horses in more detail.
Take care and stay safe everyone.