Monday, 04 October 2010 00:00
Written by David Pipe
You will find (just about!) everything you ever wanted to know about me, my staff, the facilities on offer and of course the horses at Pond House, not to mention how you too could become involved with a horse of your own, while for the novice enthusiast there is a jargon-busting glossary of terms to help with some of racing's sometimes puzzling language.
Don't worry though… we have retained the old favourites with Chester Barnes' daily blog, "Chester's Chat" remaining firmly in place along with other newsworthy articles from the team here at Pond House.
New Conditional Jockey
Also new is an update from me with future plans for horses, upcoming sales, new arrivals in the yard both equine and human! There will be lots to read and the first piece of breaking news I would like to offer is that I have just employed a new Conditional jockey.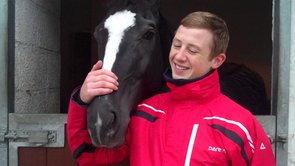 He is a new up and coming young rider from Ireland, Connor O'Farrell. Connor is 21 years old, has ridden 28 winners in his career to date and claims a valuable five pounds. He started off working with Patrick Prendergast and was there for two years before being associated will the John Hanlon yard of late. He will be a great addition to strengthen the existing team of jockeys, Tom Scudamore, Timmy Murphy, Johnny Farrelly, Danny Cook and Hadden Frost. Hadden is now of course first stable jockey to Henrietta Knight but still rides out once a week at Pond House. It is great we have a fantastic team of horses and staff here at the yard and we are very much looking forward to the season ahead.
As has always been the policy at Pond House, we are continually striving for ways in which to improve, and if you have any comments or suggestions about our website, please feel free to e-mail us at: This email address is being protected from spambots. You need JavaScript enabled to view it.
Enjoy!