Horses for Sale
          Shares Available          


Shares available in this handsome
five year old gelding Cadeau d'Or.
Good ability on the flat with
the physique for jumps.
Click on the picture for more details
Friday, 12 November 2010 08:08
Written by Chester Barnes
Proper racing returns this afternoon with the beginning of the three day Open meeting at Cheltenham.  It is racing at the highest level, and I am sure that a number of these will be going to the Festival meeting in March.  If you have never been to one of these high class jump meetings, just try going, even if it is only once - the atmosphere is fantastic, completely different to any flat meeting.  It seems to me that real racing people go jump racing.
The feature of the week, The Paddy Power Gold Cup takes place tomorrow and I was surprised to see that only five horses have ever won the race twice.  The last one was Cyfor Malta who won in 1998 under A P McCoy and then again in 2003 under Barry Geraghty...now there was a racehorse - he always worked so well and was exuberant about everything he did.
Great Endeavour is a stand out 5/1 shot with Corals for the centrepiece, with all of the other firms being shorter.  If you fancy David's grey Cheltenham Festival winner, it would seem that you need to back him with Corals.
*****
I see that former Hot Chocolate front man Errol Brown is 62 today.  Where did my youth days go?...I wonder if Errol is still a sexy thing?!
*****
Matt Chapman gave our website a really good plug on Attheraces yesterday - he said it was completely different class to the rest of the racehorse trainers websites.  The much maligned Tango man isn't such a bad bloke really (as long as you have a pair of earplugs in)!  Only joking Matt...
*****
I have a couple more photographs from the gallops to share with you.  Below you will see a nice picture of Consigliere as he continues his preparation for this weekend's Open meeting at Cheltenham, as well as Painter Man and The Tatkin.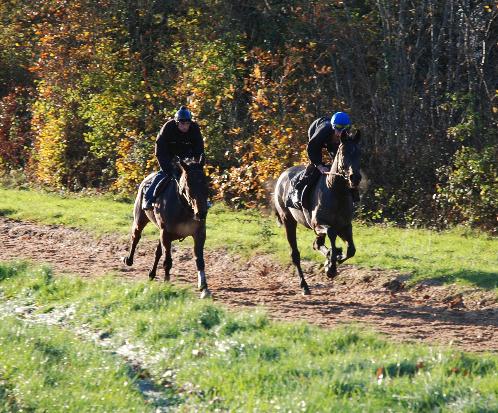 Above Left: Consigliere, and Right: (l-r) Painter Man and The Tatkin