Tuesday, 05 July 2011 07:00
Written by James C Smith
Frosted Grape is David's only runner at Uttoxeter this evening and she runs in the 9.20pm race.  I could be alseep by then!  It is rather late but I do enjoy watching these evening meetings and our five year old mare has ran okay so far this season and we have champ A P McCoy in the saddle so fingers crossed she will run well.  As I mentioned over the weekend I have been out with the camera taking a few snap shots on the gallops, so click on read more to have a look.
                By Bollin Eric                                                     Raslan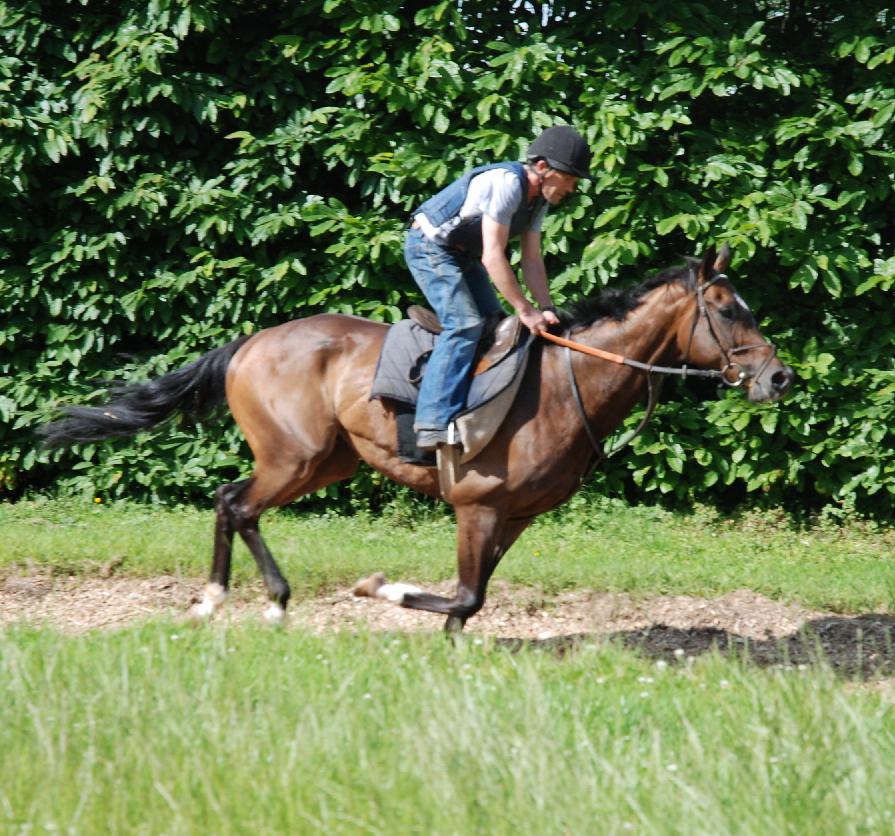 Reset City                                                   Vertige Dore
I see that Carlisle are holding a meeting for all female jockeys on August 1st.  They are holding a fashion show and even have X-Factor winner Alexandra Burke entertaining the crowd after racing.  I did not realise there were that many female jockeys to fill a complete meeting but just shows you how much I know!  They say that the advanced ticket sales are already ahead of last year so it shows what a good idea it is but it is just a same Carlisle is so far away from Devon!  I am sure the next idea they will come up with is to have the jockeys in short skirts and suspenders!  My imagination is running away with me again!
Football.  Looking at the transfer market it looks to me like Arsenal might struggle to get 11 players ont he pitch for the start of the season, let alone do well.  Their defender Clichy joined Manchester City yesterday for about £7 million.  Cesc Fabregas and Samir Nasri are expected to follow and it looks like a few more of the Gunners star players could also jump ship.  As I have mentioned before it is not moeny that players need these days, as they already have plenty of that, but it is titles.  I do not think these players will win titles at Arsenal and I think the manager as done well to keep his job for so long with no titles in recent years.  If he was a manager in Italy, Spain or even at Chelsea I think he would have been looking for new job a long time ago.