Sunday, 02 August 2020 07:24
Written by G Edwards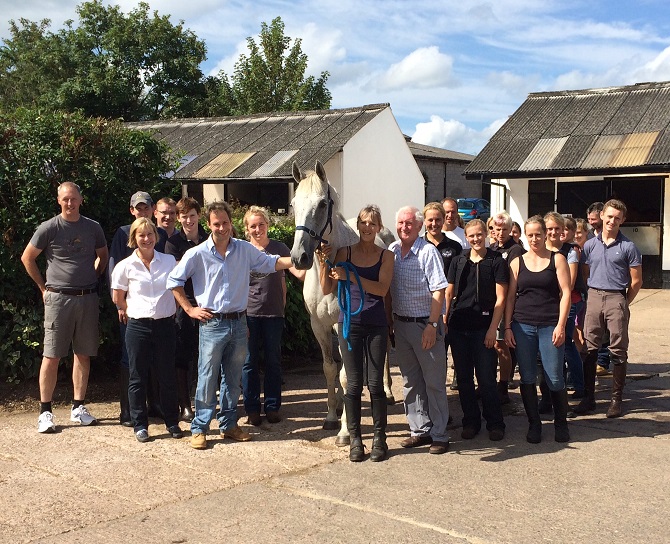 Swing Bill
Swing Bill was a 2001 born handsome grey gelding by Grey Risk and his dam was called Melodie Royale.  I have to confess he held a special place in my own heart as well as many of us here at Pond House.  He was not even one of the best horses to have been at the yard and I certainly would have not liked to have ridden him up the gallops but he was a gentleman in the stable and a real character.  He had a lot of health issues off the track but still was a star in his own right on the racecourse and he played a significant part in several young jockeys' careers.
He began his career on the flat in France in October 2014 and from five starts, a second place at Deauville proved to be his best effort.  He was then sent over hurdles and after falling on his debut at Auteuil in November 2005 he finished second next time out before winning on his third start at Pau.  He disappointed on his next start after that be returned to form with a win at Auteuil on his final start in France in March 2006.  After this he was purchased by owner David Johnson and went into training with Henrietta Knight over here.
He had six starts for her and finished placed on five of those occasions with a second at Newbury being his best effort in March 2007.  He picked up a tendon injury on his final start of that season and was off the track over a year before arriving at Pond House in April 2008.  It was not all plain sailing when he came here either!  He needed more time for his tendon injuries but then suffered from a serious colic in 2009 which required surgery and then further complications followed but thankfully he came through it all but just needed time.
He made his stable debut at Newton Abbot in July 2010 at the age of nine, more than three years after his last racecourse appearance.  It was also his chasing debut and despite racing keenly he was the very impressive winner, winning by 25 lengths!  He finished fourth in both the big handicap chases at Newton Abbot and Market Rasen that summer before finishing second at Cheltenham's October meeting.  He finished second back at the track in November and it was already becoming clear that he seemed to love racing at Prestbury Park.
He won a veterans chase at Wincanton in February 2011, before finishing third at Newbury and seventh, not beaten very far at the Cheltenham Festival in March.  He went on to finished fifth in the Topham chase over the Grand National fences at Aintree in April showing a real liking for those fences.
That summer he was placed at Worcester and Stratford before he returned to Cheltenham in November for the amateur riders handicap chase.  He gave a young Mr Tom Bellamy claiming seven pounds his first win at the tracking, keeping on well and winning by seven lengths off a mark of 134.  He was consistent without winning for the rest of that season and gave Conor O'Farrell his first ride in the 2012 Grand National.  He completed in a gallant tenth at odds of 100/1!
In the autumn of 2012 he returned to Cheltenham for the amateur riders handicap chase once again.  This time it was the turn of Mr Mikey Ennis on board but it was the same result as he won the race again, giving Mikey his first Cheltenham win.  He went to Aintree after this in December for the Becher chase over the National fences.  He ran a terrific race to finish fourth with Conor O'Farrell in the saddle and he was beaten less than two lengths behind winner Hello Bud.  He returned to Aintree for the 2013 Grand National at the age of twelve and bettered his effort from twelve months previous to finished sixth this time around with another super display of jumping.
After a summer holiday he returned the following season for a light campaign having now reached the age of thirteen and although he didn't exactly trouble the judge he ran very well in three top class races.  He finished fifth in the Becher chase at Aintree in December, eleventh in the Kim Muir at the 2014 Cheltenham Festival and then ninth in the 2014 Grand National which was his final ever run.
He then went to live with Captain Guy Disney and had a few point to point runs the following season.  Swing Bill won six races from 46 career starts and he was also placed 18 times as well.  Rated 142 at best he won over £127,000 in prize money and is remembered very fondly by everyone here at Pond House.  Who knows what else he may have achieved had he basically not missed the 'prime' of his career when off the track for over three years. 
 Watch him finish fourth in the 2012 Becher chase here: https://www.youtube.com/watch?v=gBkKZUfBMB0