Monday, 04 November 2019 15:44
Written by David Pipe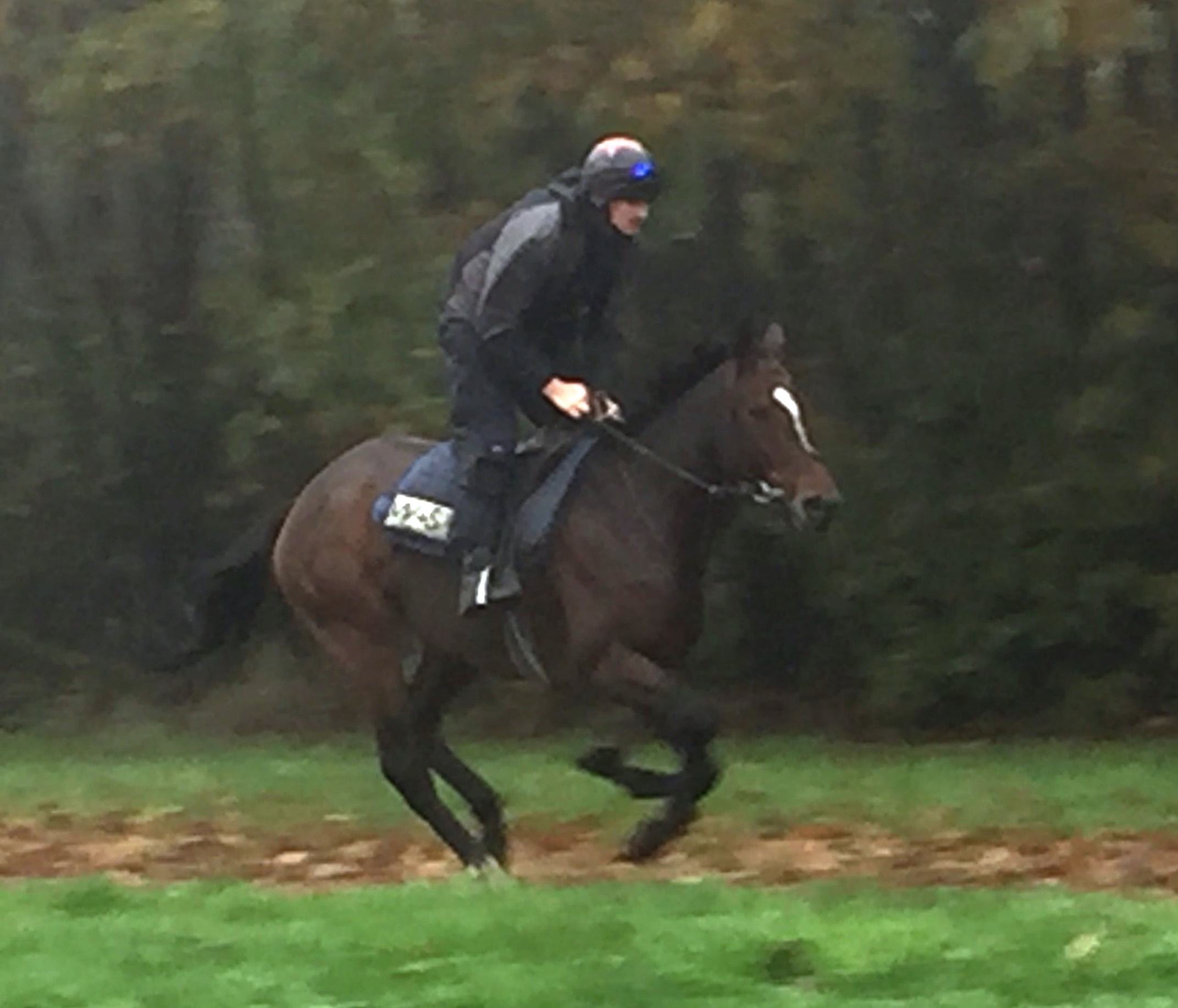 October certainly proved to be somewhat damp with 145mm of rain falling at Pond House last month alone.  Strangely, it produced an incredible variance in the going from racecourse to racecourse, with Newton Abbot having to abandon their final fixture of the season last Thursday due to waterlogging, whilst the ground at Taunton's first meeting on Wednesday saw ground that was officially described as good (good/firm in places).
This invariably makes the job of placing the horses a lot more difficult as you need to keep an eye on these discrepancies as well as the forecast for the coming days as you endeavour to find the ground most suitable for each individual runner.
Exeter hosts their biggest meeting of the season on Tuesday with the Haldon Gold Cup the highlight.  We won't have any runners in the big one, although popular veteran Dell' Arca, Queen Adelaide, Buster Edwards and Airton are all runners at the meeting.
Kepagge (pictured above) and Into The Woods feature among the entries in the bumper at Chepstow on Wednesday and Newbury on Thursday, whilst Daklondike (better known as a quality staying chaser) holds an entry in the Pertemps hurdle qualifier at the latter meeting.  Meep Meep Mag, an Irish point-to-point winner could make her debut for the stable in the bumper at Warwick on Friday.
Promising bumper winner First Lord de Cuet could make his hurdling debut in the National Hunt novices' hurdle at Wincanton on Saturday, whilst Champers On Ice and Delface are entered on Sunday at Ffos Las.  Ever popular Rathlin Rose, back from his Velka Pardubicka exploits rounds out our entries in the veterans' chase at Sandown.
Last Week's Runners
Looking back to last week and there were only a handful of runners but Dusky Hercules performed with credit to finish third in the 2m novices' hurdle at Taunton on Wednesday.  This was a big step in the right direction, especially as he is a staying chaser in the making.
Nordic Combined also ran very well, finishing third in the valuable Listed handicap hurdle at Ascot on Saturday, beaten only three lengths.  He is still a maiden over hurdles but has some very good placed form in the book and it should only be a matter of time before he gets his head in front over timber. 
Noonan's Lucky Escape
I was very relieved to see David Noonan return to the saddle (with a winner) at Uttoxeter on Friday following a horrific looking unseat at Taunton only two days earlier.  Indeed, he remained on the ground for some time afterward and I was concerned that he had been injured.  Fortunately he did eventually get up and walk away under his own steam and following a day of rest, he was back race riding.  As I said only a few weeks ago after Tom Scudamore's rapid return from a broken wrist and T7 vertebrae, these jockey are built from strong stuff.  I'm sure David wouldn't consider himself lucky but it could have been so much worse. 
Newton Over For Another Year
As I mentioned at the beginning of this week's column, Newton Abbot were forced to abandon their final fixture of the season owing to waterlogging.  As a jumps track that operates primarily through the summer, they need to water the ground during the dry months to maintain a safe surface (especially so given the glorious weather we enjoyed… I know, it all seems a long time ago now!).  Rainfall on watered going soon turns the ground very soft and with the track situated right next to the River Teign, very wet weather can spell disaster for the course.
I feel particularly sorry for Newton Abbot as they are a small, independent track who do a marvelous job and it is costly for them to lose any fixture, never mind the final three of the season.  Hopefully they will have better luck with the elements next season.
National Racehorse Day
There has been a growing call among trainers and racing fans alike for a National Racehorse Day to be launched.  Lambourn trainer Richard Phillips was the first to table the suggestion and I believe it is a wonderful idea – we should certainly be doing more to promote the care and attention that our beloved horses receive.
The horses are doted on hand, foot and finger and are loved and adored by their faithful grooms, yet the general public do not often get an insight into this side of the sport.  Racing fans already know how much the horses love what they do, but this would provide a great opportunity to put this message across to a wider audience.
Frankel Film
Talking of bringing racing to a wider audience, I understand that plans are afoot to bring the remarkable story of Frankel to the big screen.  Oscar winning actor Jeremy Irons has been earmarked to play the legendary late trainer, Sir Henry Cecil in a film about the best thoroughbred racehorse since official ratings began.
The story of the unbeatable Frankel paired with the meteoric rise, equally dramatic fall and glorious redemption during Sir Henry's final years sounds like a fairytale.  I can't wait to see it and hopefully it will capture the imagination and encourage more people to the track.
Poor Job From The Post
I have long been a fan of the Racing Post and still get my daily copy, although I have to say that I have been left disappointed on many occasions during recent months.  At £3.20 a copy it is no longer just pocket change, especially when compared to other daily papers and I understand that the bulk of this cost is as a result of the prices being commanded for the rights to publish the entries.  Even so, there are days when the incorrect entries are published in the paper and other days where they do not figure at all.  This simply isn't good enough from the trade press when it is an invaluable tool for trainers.
Championship Confusion
Is anyone else left baffled by the supposed conclusion to the flat season at Ascot's Champions Day?  As we know, Oisin Murphy was crowned champion jockey at the meeting a fortnight ago, but it seems that the flat trainers' championship is not decided until the end of the calendar year.  I had been discussing it with members of my staff recently and we had a difference of opinion about when the season officially drew to a close.  The point is if we are unsure, then those outside of the sport must surely be baffled?  Why is the trainers' championship not decided at the same time as the jockeys' or vice versa?
Furthermore, why is the trainers' championship not decided by winners trained rather than prize money (as per the jockeys' title)?  It seems ridiculous when you consider that John Gosden is only slightly ahead of Aidan O'Brien, even though he has trained 150 winners more.  Some will argue that it is all about quality, but how can you claim there is a lack of quality from Gosden when you consider the likes of Enable, Stradivarius, Too Darn Hot and Logician have represented him on the flat this season?  Time for a shake-up I think…
Free Lease
Finally, I am pleased to bring news of a brand new and exciting ownership opportunity that has just arisen at Pond House.  Doyen's Glory (pictured right), a three year old filly has recently arrived from Ireland and is available on a free lease basis for this season and next (meaning that you do not need to fund the purchase price of the horse).  She is an attractive, well bred filly who is a full-sister to prolific winning hurdler/chaser, Hatcher and we are looking forward to finding out more about her.
For further details of how to get involved visit the horses for sale page