NH Fixtures & Sales Dates
Thursday, 26 April 2012 07:38 Written by Chester Barnes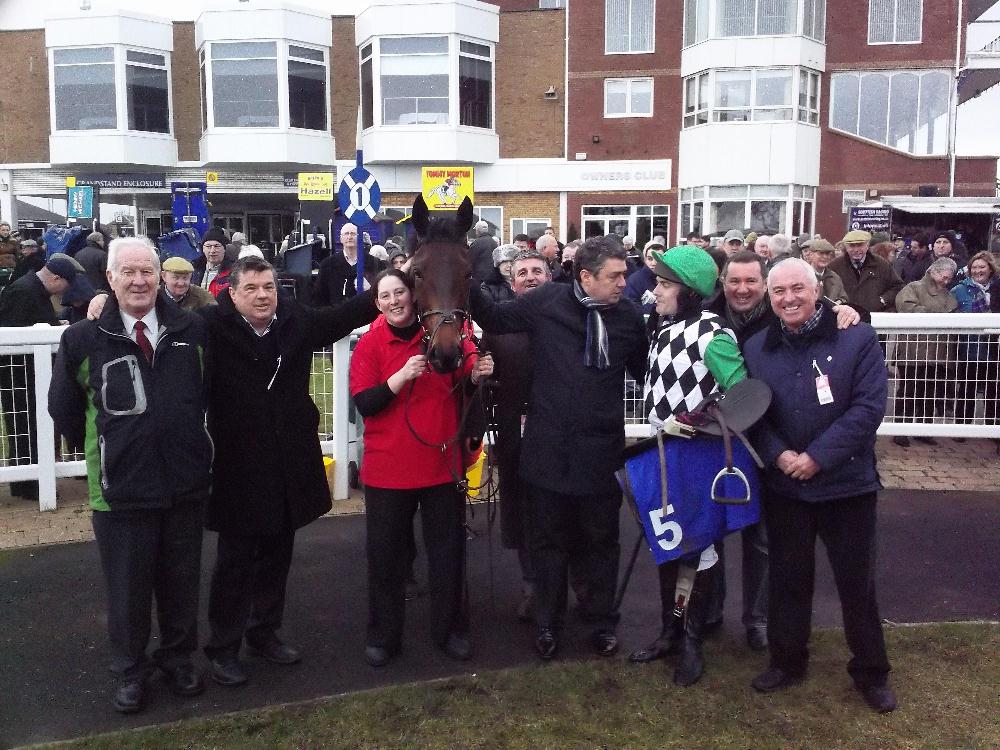 The Tracey Shuffle
At the moment there are five meetings left on for today, the flat at Beverley, Brighton and Wolverhampton and a jumps racing card at Perth. I am pleased to report that Punchestown goes ahead after an early morning inspection. David was due to have three runners at Uttoxeter this evening but the meeting was called off yesterday afternoon with a waterlogged track. Did anybody see the action from Punchestown yesterday? It ended up being a hurdle and bumper card and the Punchestown Gold Cup will now take place on Saturday. David's runner, Weekend Millionair ran a cracker to finish second in the handicap hurdle and got a good front running ride from our young conditional Tom Bellamy. He led all the way until approaching the last and kept battling on all the way to the line. The track had lots of water lying around and the horses seemed to be splashing through it okay. Let's just hope the rain eases off a little so we do not lose anymore fixtures this week. We have had another 14mm of rain at Pond House in the last 24 hours but it is fairly bright and not raining at the moment! David is due to have runners at Chepstow and Plumpton tomorrow and both meetings are hopeful of going ahead.
Meanwhile our runners in France ran okay at Auteuil and both horses finished sixth in similarly testing conditions to Ireland. Big Occasion and Tarartata Sivola both enjoyed conditions and Tom Scu enjoyed his experience of riding in France for the first time. Although we finished just out of the prize money I am sure we will have a few more runners in France over the summer. Storm Lantern was entered to run at Auteuil on Saturday but he does not run and will probably be entered in France to run again very soon. Tom Scudamore is having a very busy week and he is now back in Ireland to ride our runner today at Punchestown, The Tracey Shuffle. He runs in the first race, 3.40pm which will now actually be run at 4.55pm after once again there will be no action over fences today. He will appreciate the heavy ground and was a winner at Ayr last time out. We are fairly hopeful of a good run.
I will be glad when all this rain stops so we can call the drought off! How can thee be a drought as we seem to have flooding everywhere down here at the moment! My mate keeps telling me that this is wet rain not drinking rain, i did not realise this!
If you are watching the racing from Perth and you are going to have a bet you can't go too far wrong if you follow the Twiston-Davies stable. Nigel loves having winners at this Scottish track, they had a great day yesterday and they are sure to continue in good form today.
Ron Atkins is 69 today. Ron used to ride and he used to have a big RA on the front of his skull cap. He was a great jockey who used to tell MCP a lot about the horses he rode which was a great asset. Happy Birthday Ron! I also see that David Howard is 34 today. David used to be one of our apprentice jockeys years ago but I am not too sure what he is up to these days.
Another great game of football in the Champions League semi final last night with Bayern Munich going through on penalties. Chelsea versus Bayern in the final in Munich, what a game. I am sure David will be trying to get a ticket!